Sign the Petition to Reform CCHD!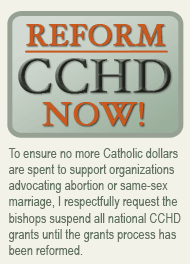 The
Reform CCHD Now Coalition
is sponsoring a petition at
Reform CCHD NOW!
asking that no more Catholic dollars be spent on organizations that support positions that are antithetical to Catholic Social Teaching on the issues of abortion and same-sex marriage.
Sign the petition by clicking the image above
and let the Bishops know that you believe that CCHD grants should be stopped until the process can be reformed!